The purpose of this blog is to put a little order back into Friday night dinner.... Please forward, like, tweet or at least print and share.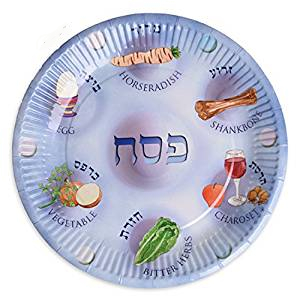 Out of the blue yesterday a call came in from a sixty-something man who told me he was planning to make a Seder for the first time in his life.

He had Googled "how to run a Seder" and stumbled upon my article, "The Art of Leading an Amazing Seder", and from there tracked me down.

The first question of the week for your table:

Does it really matter (doing your own Seder v. being a guest at someone else's)?

We sympathize with those who feel that making your own Seder just seems so overwhelming.

But if you have children (even grown) or grandchildren, then making your own Seder really is a big deal.

The basic premise of the Seder is the older generation telling the younger generation why it matters that we're Jewish.

And we ritualize it, we make it fun, we invent variations, but in the end the message is the same: it matters that we're Jewish.

It matters so much that we're going to the effort to make our own Seder.

I mean, even Groucho did it.

Think about it.

And then get busy. You might start
here or here or even here
.
Or here? or here....or here... or here for sure.

(And if you already have Seder plans, you could always try this.)

Shabbat Shalom!

PS - If you are wondering what's going on with the Art of Amazement Haggada - we've been putting a lot of time into a new 2017 edition. I hope to be able to announce it next week in this space.
PPS - SPEAKING OF JEWISH IDENTITY, Did you know you can gift the

Amazing Jewish-Fact-a-Day Calendar

app (or use this link). No matter how Jewishly literate, guaranteed to larn you something new! So if you know someone who is Jewish, send them the app!
PPPS - Did you find the hidden link?


Like this post? How about putting your gelt where your gab is: Like it, tweet it, or just forward it.