The purpose of this blog is to lighten up your Shabbat dinner table. Please print and share.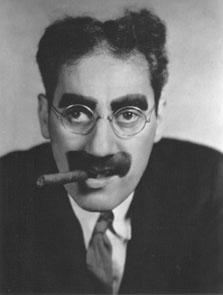 It's Pesach vacation and there wasn't supposed to be be a Table Talk this week.
But after eight years, it's a hard habit to break.
It seems to me that one way the night of Pesach is different from all other nights is that it's the most celebrated Jewish holiday.
Even Groucho Marx made a Seder.
It wasn't like your or mine, that's for sure!
(You can read all about it
here
.)
But it was a Seder nonetheless.
Which is enough background for today's three questions:
1. What's your favorite Groucho line?
2. What does it mean to you that Jews everywhere - North and South America, Asia (
world's largest one
), Africa, probably even Antartica (although
apparently not this year
) (oh yeah, and also
in the White House
)- all sit down and make a Seder on the very same night?
3. Despite our being scattered around the globe,
it is being reported
that the Land of Israel is now the world's biggest Jewish center. What, if anything, does that mean to you and me?
Shabbat Shalom
and
Happy Pesach
PS - Want to give your Table Talk rabbi a taste of freedom?
Like it, tweet it, or just forward it to someone who might enjoy it.
And remember, when looking for
books, gifts etc. for Passover and beyond, you should let us do the searching for you:
http://bestjewishkidsbooks.com