The purpose of this blog is to help your family and friends turn your Shabbat table into a work of art. Please print and share.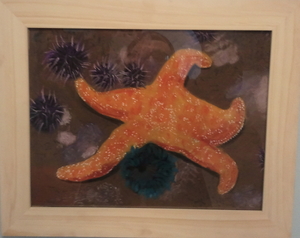 Please look at the picture to the left.
What do you see?
A. A starfish
B. A work of art
C. A proud father of a budding art student's first effort
D. Some wood, some glass, some pastels.
Our daughter spent many hours on this creation, during six sessions of her first-ever art class.
Question 1 for your table:
Does knowing that background information make it more beautiful?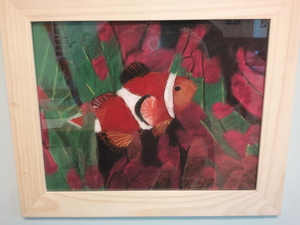 While we're at it, I might as well show you her sister's first creation as well:
Truly
stunningly fabulously thrillingly amazingly earth-shatteringly
beautiful, right?
Great art teachers often say that the main skill to learn is not how to draw, not how to paint, but how to see.
How to get started learning to see?
You could take the neuroscientist's route and read
Inside a Dog: What Dogs See, Smell and Know.
Or you could go the artist's route and read the classic
Drawing on the Right Side of the Brain
.
This is all a build up to Question 2 for your table:
What's the point of art
?
And what does all of this have to do with being Jewish?
Shabbat Shalom
"Wagner's music isn't as bad as it sounds." - Mark Twain
PS - If you like, please
like, tweet, or just forward to someone who might enjoy.
As always, this message can be read online at http://rabbiseinfeld.blogspot.com.
__________________
Rabbi Alexander Seinfeld
Jewish Spiritual Literacy, Inc.
3700 Menlo Drive
Baltimore, MD 21215-3620
(410)
400-9820
To get free audio and other stuff, make a donation, or keep in touch - http://www.jsli.org
A 501(c)3 organization.
---
---
Jewish Spiritual Literacy
3700 Menlo Drive
Baltimore, Maryland 21215
USA
Read the VerticalResponse marketing policy.