The purpose of this email is to turn the Friday night dinner table outward. Please print and share (+ like it, tweet it, forward)
.
In memory of Raphael Shachar ben Aharon.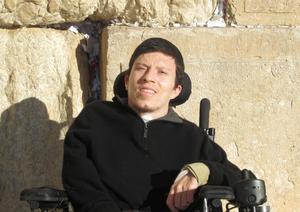 Raise your hand if you're tired of hearing about, and talking about, failed men?

So let's talk about a great man who died this week at age 37.

His name was Shachar Weissberg.

Shachar was born in Baltimore on March 25, 1980, one week before Pesach.

At age 7 he was first hospitalized with a neurological disease.

Here is one story from that time that shows you exactly what kind of person he was - and man he became:

At Channuka time, he asked his family to please bring him presents to the hospital.

And how they did! Their beloved brother was stuck in the hospital while other kids his age were going to school, playing in the snow, and so on.

What was his reaction to all the gifts?

He went down the hallway and gave them to all the other children in the hospital.

For Shachar, life wasn't about getting his needs or wants met. It was about looking for opportunities to do chesed.

Here is one of the only blog posts he managed to write:
On the first night of Chanuka, 2011, I arrived in Israel with my mother for what was going to be a three in a half week vacation to visit my dear siblings and their families. We also came to see what our options where in order to make aliyah that summer. I will never forget that night when I arrived in Israel and how excited I was to finally be here. Little did I know that this was the beginning of a new chapter in my journey in life. Two weeks later, I was hospitalized with a severe case of pneumonia and a collapsed lung, and I spent the next three in half months in Shaare Zedek. It was a very difficult time and I will write the many stories of hashgacha pratis that accompanied me and helped me pull through. I am currently living in Yerushalayim where I have always wanted to live. Although it was not the way I dreamed of coming and settling here, but it was definitely the hand of God that brought me here.
Question for your table: What's more important - being happy right now or making someone else happy right now?

May his memory be for a blessing.
Shabbat Shalom

Rabbi Alexander Seinfeld PhD
Jewish Spiritual Literacy, Inc.
3700 Menlo Drive
Baltimore, MD 21215-3620
(410) 400-9820
To get free audio and other stuff, make a donation, or keep in touch - http://www.jsli.org
A 501(c)3 organization.
---
---
Jewish Spiritual Literacy
3700 Menlo Drive
Baltimore, Maryland 21215
USA
Read the VerticalResponse marketing policy.