The goal of this blog is leverage the last Shabbat of the year to steer us towards a meaningful Rosh Hashana.

We are working hard on a special Rosh Hashana Table Talk for next Wednesday. In the meantime, if you are still looking for books, activities and gifts for all ages, see our suggestions and links at bestjewishkidsbooks.com
.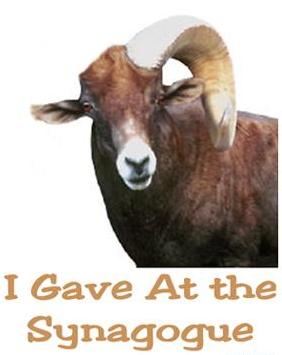 This is the final regular Table Talk of the year, folks.
For today, to prepare you and your family for next Wednesday's Rosh Hashana email, I have three questions.

First, take a moment to look at the photo to the left then read on.

What was your first reaction to the photo? Did you see a poor sheep missing a horn, or a sheep that thankfully has a horn?

Think about your reaction for a moment and how that may reflect your general attitude towards life.

Second is a simple question that doesn't get asked often enough:

If you had to choose, what would you rather have:

A) A long and comfortable, healthy life devoid of meaning.
B) A long and uncomfortable life full of meaning.

Think before you answer.

I know you want to say an answer that isn't one of the choices. Stick to those two choices.

Now for today's third question, after everyone picks between those two choices, ask them to choose between their answer and option C:

C) A short and comfortable, healthy life full of meaning.

In other words, in the first round, you're asked to choose between comfort and meaning, and in the second round between comfort and longevity.

What do you choose?

Shabbat Shalom
To find Amazon's best High Holiday books, activities and gifts, please use bestjewishkidsbooks.com and help support JSL's work.

Like this post? How about putting your mouse where your mouth is: Like it, tweet it, or just forward it to someone who might enjoy it.