As promised last Friday, here's the update on the
new 2014 Art of Amazement Haggada and Passover Kit
!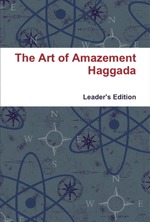 This innovative haggada turns you into a master story teller. Rather than placing commentary below the text,
The Art of Amazement Haggada
embeds the
midrashic
details into the text.
"Haggada" means "telling the story" and this haggada will empower you with the mastery of Midrash to keep your participants
glued to their seats
.
Completely revised and updated for 2014!
Features:
Designed and cross-referenced to be used with the participant "Freedom" edition, but will go well with any other haggados.
Almost everything is transliterated and translated. Very little Hebrew.
Suggestions of what parts to skip for less-religious or younger audience
Midrashim and questions are embedded in the text so instead of looking down at footnotes or at a different book, it's all there for you.
Different suggested questions for 2nd Seder
12 Tips on how to prepare for and run a successful, engaging Seder.
To learn more about the
Art of Amazement Haggada
, including how to get a print-it-yourself PDF,
click here
.
To learn about the
JSL Passover Kit
click here
.
Or cut to the chase and order your hard copies here:
1. Leader's Edition —
Paperback binding
(Amazon.com)
2. Leader's Edition —
Spiral binding
(longer delivery time)
3. Participant's Edition —
Paperback binding
(Amazon.com)
Feeling a bit of
Pesachphobia
, also known as
haggadaphobia
and sometimes referred to as
sederphobia
?
You can conquer that fear with the new 2014 edition of the
Art of Amazement Haggada.
PS - Our public service site bestjewishkidsbooks.com has been stocked with links to great Pesach books and gifts, even matzah, believe it or not.