The goal of this email is to lighten up your Friday night dinner table. Please print and share.
IMPORTANT LATE-BREAKING NEWS - the updated Amazing Jewish Fact-a-Day Calendar for smart phone or tablet is finally out! If your app stopped working, please install this week's update. If you never got the app, as a special promotion it is
FREE on iTunes
through Sunday. (Google won't let me make it free for Android but
here's the link
anyway.) Please forward this to anyone you know who might possibly enjoy this app. Nothing to lose, much to gain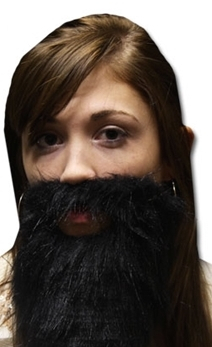 People ask what kinds of new props, toys and gifts I get each year for our Pesach Seder.
(Since my kids don't have internet access, I believe I can safely send this information without them finding out.)
First
, inexpensive narrative props from
Windy City Novelties
:
Egyptian
Pharaoh Hat
- that's an obvious one.
Bloody Hand Print Window Clings
- an interesting alternative to the usual cup of blood
Wild Animal Finger Puppets
- guess what plague?
Metallic sun glasses
- will bring them out when I mention how "for the children of Israel, there was no thunderstorm or hail, they were just enjoying a nice sunny day"
Death's Dagger
- for the Death of Firstborn plague
Droopy Eye Glasses
- also for Firstborn
Jumbo Diamond
Child Size Rings
- for when the Israelites leave town with "much wealth"
Black Beard
with Elastic Band - OK, I haven't figured out how to use this one.
And that's my first question for you and your table -
What's the best use of that last prop at the Seder?
Second
, my
Amazon list
:
The stunning new book by our favorite Jewish kids book illustrator Gadi Pollock,
From Darkness to Light
.
The new
Suspend
game
Juggling Matza Balls
(maybe I'll connect to plague of Hail)
Seder Plate
Jigsaw Puzzle
For plague of Pestilence -
animal magnets
For an adult: Rabbi Wohlberg's
Un-Haggada
Gluten Free Hand Dipped Chocolate Coconut Macaroons
OK, my parental health-conscience didn't permit me to order these, but if they happened to show up in our mailbox, I'm sure no one would object....
Third
, here's an interesting question for your table tonight:
You know how the last song of the Passover Seder is
Chad Gadya - An Only Kid
?
Ever stop to wonder what that's all about?
My father bought for 2 zuzim?
Then came the cat that ate the kid??
Hello? What kind of cat was that? A bobcat?
And then a dog bit the cat? Sounds nice but why?
The story is obviously symbolic. Each character (animals, a stick, a fire, the Angel of Death etc.) represents a major event in Jewish history.
Looking forward to your answers.
If you want my answer, you'll have to get the
Art of Amazement Haggada
(Amazon.com)
(
Downloadable PDF version available here
; full JSL Passover Kit downloadable
here
.)
Feeling a bit of
Pesachphobia
, also known as
haggadaphobia
and sometimes referred to as
sederphobia
?
Conquer that fear with the new 2014 edition of the
Art of Amazement Haggada.
Shabbat Shalom
PS - Our public service site bestjewishkidsbooks.com has more links to great Pesach books and gifts, even matzah, believe it or not.