The purpose of this email is to separate the "men" from the "boys".... Please forward, like, tweet....
In honor of Yoseph Seinfeld, who turns 13 years old today.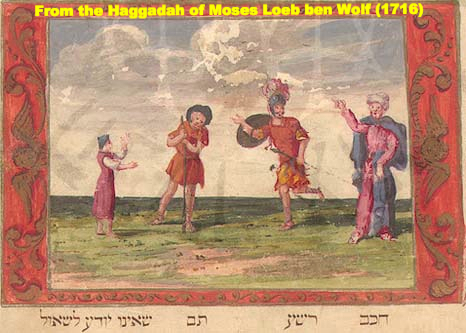 Last night I attended my first "bo-bayom" party. Imagine a mini-wedding with 40 kids dancing with skill and abandon.

What greater simcha (joy) is there for a parent than seeing their child b'simcha (happy)?

In his speech our son talked about two rather opposite qualities:

a. Zerizut - acting with alacrity, not being lazy
b. Kavana - acting deliberately, not hastily

First question for your table: Are these two qualities mutually-opposed, or is it possible to cultivate them both simultaneously?

(If you would like a copy of his entire speech, shoot me an email.)

Over the past couple weeks, you've had some encouragement and suggestions about making your own Seder.

And you've heard the pitch for the new Art of Amazement Haggada.

Is there anything else to say about Pesach?

Can you name the "Four Sons" of the Haggada (often modernized to the "Four Children")?

A. The wise child - "I want to learn as much Jewish wisdom as I can"
B. The wicked child - "I've learned a lot, I know enough."
C. The simple child - "What is Jewish wisdom?"
D. The one too young to ask.

Two more questions for your table:

2. Which of the four are you?
3. Which of the four is the Haggada speaking to?
Shabbat Shalom and Happy Passover
Like this post? How about putting your gelt where your gab is: Like it, tweet it, or just forward it.