The goal of this blog is to make you into your local Hannuka Hero. Please read carefully and click, click, click (or tap, tap, tap).
Happy Birthday Calla - May you live in continued inspiration til 120!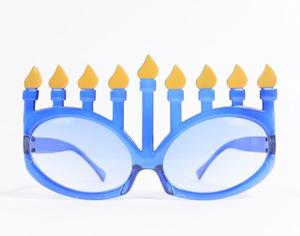 This week's blog contains my Channuka gift to you.

It comes wrapped between two questions for your table.

The first question is about gift-giving itself.

What do gifts have to do with Channuka?

I mean did you ever just stop and think: "What's the connection?" - ??

I used to think there was no connection, that Channuka gifts come from Xmas-envy.

I was wrong.

But rather than spill the beans, let's make this the first question for your table:

Why do so many people like to give gifts specifically during Channuka?

Now, as you surely know from our cool Channuka Countdown Timer, you're running out one of the few things in life that is truly irreplaceable: time.

I can't give you time.

But I can save you time.

Need a beautiful menorah? Click here.
How about candles? Try these.
How about pre-filled oil candles? These are great.
Dreidels? Look no further.
Chocolate coins? Thought of that too.
Kids books and activities? Got 'em.

(Please remember that using our links is an easy way to support JSL's mission as Amazon contributes about 5% of the purchase.)
Now that pretty much takes care of the physical side of Channuka.

How about the spiritual?

Where are you going to find a good transliteration of the Menorah bracha/blessing and Ma-oz Tsur song?

How about the song "I Have a Little Dreidel" in English and Yiddish with guitar chords?

How about a Podcast of my class, "Channuka and the Secret of the 36"?

Help JSL with an end-of-the-year tax-deductible donation and receive all of these as our thank-you gift.

Let's now wrap up this email with the second question for your table:

What's the ideal Channuka gift?
Shabbat Shalom and Happy Hannuka
PS - Still looking for a meaningful and useful gift for a teacher in your life? How about a parent who is struggling to inspire her children? Send them a subscription to the

Amazing Nature for Teachers

program @ AmazingNature4Teachers.com.

PPS - A fancy Chicago chocolatier is now producing hand-crafted gelt for grownups.

PPPS - In case you were wondering, the Menorah Glasses really do exist. As does the dreidel headbopper.
PPPPS -
Like this blog? How about putting your mouse where your mouth is: Like it, tweet it, or just forward it to someone who might enjoy it.