The purpose of this email is to help create some great face time at your Shabbat table. Please print and share.
Face 2 Face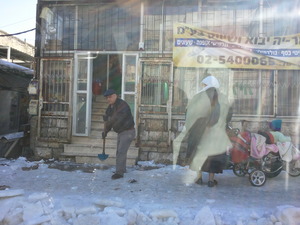 OK, so I'm back from Yerushalayim.
The first thing I did in the airport in New York was to get a professional New York shoe shine for my poor Oxfords, blanched by the Jerusalem blizzard.
How was your trip?
I didn't visit any "sites".
I didn't eat any falafel.
I
did
drink a lot of coffee.
(
Peet's best flavor
, that I brought with me. Guess I'm a little spoiled.)
The highlight of the trip?
Surely watching children gleefully, exuberantly reveling in the
snow
was, hands-down, the greatest joy.
Some kids used baking pans as sleds.
One 13-year-old, who has never left the Land of Israel, told me wide-eyed, "It's like being in Switzerland!"
What is it about connecting with people?
What is it about connecting with people face-to-face?
In eight days I connected meaningfully with eight people/families, any one of whom would have been worth the effort.
Six were old relationships, two were new.
They all have phones. Most have email.
I have asked this question
before
, but this trip gave me a new way of asking it.
With all this great video technology, why does a face-to-face meeting still matter so much?
You probably know that I'm a big fan of long-distance relationships:
- A live class in San Francisco every Friday morning, while sitting at my desk in Baltimore.
- Studying with individuals and couples via video and phone most days of the week
-
Tweeting
-
Posting
- (anything new I'm missing?)
Yet... there's something missing, right?
A
Forbes survey
agrees.
I was pondering this yesterday when I struck up a conversation with a United Airlines pilot. He said, "It's a great truth that is the only thing that keeps airlines in business!"
In other words, in the business world, it's no secret.
This
Hilton Hotels report
explores some of the psychological reasons.
But I'm not sure they get to the very heart of the question.
So I'll leave it to you and your table tonight:
Why does face-to-face matter so much?
Is it merely because our technology isn't good enough to make the other person seem like they're in the room? Can you imagine a day when the video is so realistic that face-to-face won't matter anymore?
Shabbat Shalom
PS - If you want to know the real reason I went to Jerusalem, watch
this
... or
this
.
PPS - Want to make your Table Talk rabbi happy?
Like it, tweet it, or just forward it to someone who might enjoy it.
Even better, come visit us in Baltimore for some face-to-face time over some great coffee.