Looking for a Channuka gift, book or activity? Here's the web's best list of the best.
Life is a Pyramid
Three questions for your table: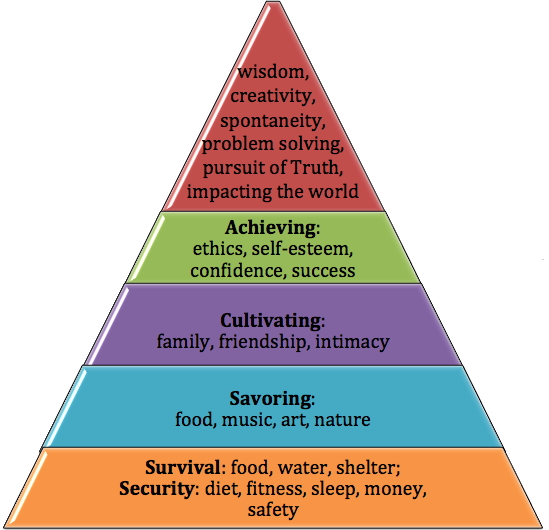 1. Raise your hand if you ever felt like you just wasted a lot of time.
2. Why does this happen?
3. What's the solution?
Recently I joined
Quora
and have been asking myself if it is a good or poor use of my time.
In asking the question, I noticed that I'm able to rationalize
just about anything
.
Ever have that problem?
So someone on Quora recently asked:
What's the best way to manage your time?
The answers were quite interesting and if you'd like to see my compendium of the best ones, send me an email.
One of the answers included a pyramid similar to the one above.
I took one look at his pyramid and felt like I was having
déjà vu all over again
.
It's uncannily similar to the structure of Chapter 3 of my book (
The Art of Amazement
).
I borrowed his idea for the colored pyramid and tweaked the words to match my own orientation, and now present it to you as a self-assessment.
Color version
Black-and-white version
(Note the point system!)
Please print a copy for everyone at your Shabbat table and let me know if they agree or disagree that this is the surest path to living every day to the fullest.
Shabbat Shalom
PS
- Please follow me on Twitter, or
tweet this week's message,
or
like it, or just forward it to someone you love...