The purpose of this email is to prod your family and friends toward some meaningful banter at the Shabbat meals. Please print and share.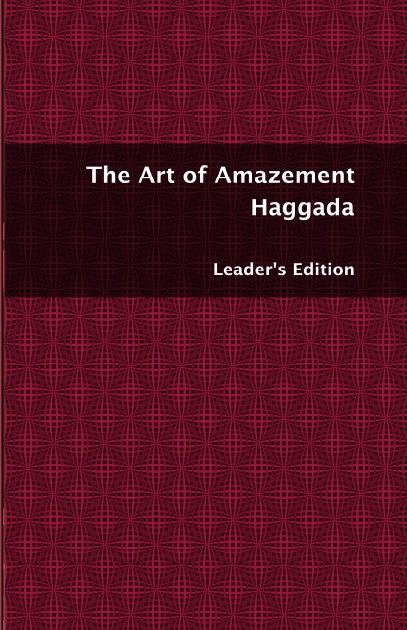 Today's question for your table is:
What was the best Seder you ever attended? What made it so?
At last count, there were
1,733 different haggadahs
and 202 "haggadas" for sale on Amazon.
Aren't they all basically the same?
Ever hear about a "new" haggada that turned out to be the same old thing as every other haggada out there, just with new artwork?
Today we — yes, that's the editorial "we" — have a treat for you.
Fifteen years in the making, the Art of Amazement Haggada is now in print.
Some may recall that it was available for download last year.
But who has room for a stack of 8x11 pages on their Seder table?
Who can afford the ink?
The new edition is a small size and you have the option of getting it with a
spiral binding
, so it will lie flat.
How cool is that?
OK, that's the boring stuff.
How is this haggada different from all other haggadas?
All other haggadas have the standard text with some commentary at the bottom or in the margins.
This haggada imbeds the midrashic color
right into the text
.'
All other haggadas are one-size-fits-all.
This haggada is designed for the person leading the Seder, to
turn you into a master storyteller
.
All other haggadas focus on the rules of running a Seder.
This haggada assumes you know how to arrange the Seder Plate (and if you don't remember, you'll know where to look it up), and instead offers tips and tricks for keeping kids and adults
engaged and involved
in the Seder.
All other haggadas give you a feeling of inadequacy or disconnect when you get to passages you don't understand or relate to.
This haggada gently suggests that you
skip certain sections
if you find them difficult to relate to.
All other haggadas (or most other haggadas) offer the interpretations of a single point of view.
This haggada gives you the unembellished
classic midrash
. For instance, did you know that when the river turned to blood, so did every bottle of water in the homes of the Egyptians.
So what did they drink?
Regardless of your level of religiosity, this haggada offers the
liveliest, most engaging Pesach storytelling
. That's what it's all about.
Spiral-bound version is available
today
here:
http://tinyurl.com/AmazementHaggadaSpiral
That's right... You can order it today and select the cheapest shipping and it will still arrive in time for Pesach.
Regular binding should be available on Amazon in a few days.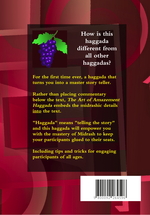 Sorry if this sounds like a sales pitch. If you know me, you know this was a labor of love.
Don't forget, I already gave you a great
question for your table
:
What was the best Seder you ever attended? What made it so?
Shabbat Shalom
PS - Passover begins in 2 weeks and change, on Monday March 25.
PPS - To my friends in the Bay Area: hope to see you Monday or Tuesday next week.
PPPS - Want to make your Table Talk rabbi happy?
Like it, tweet it, or just forward it to someone who might enjoy it.
Oh, yeah, one other thing - please remember, don't forget, when looking for
10-Plagues toys
, other
Passover books
, even
matzah
, start your search here:
http://bestjewishkidsbooks.com
Your rabbi will be proud of you.